Hi guys! Soccer is life! I absolutely love soccer. There is a joy that you feel when you watch or play the beautiful game. It actually feels magical. I want to use this enthusiasm I have for soccer to bring you valuable information that will make your soccer life easier – that is my daily goal.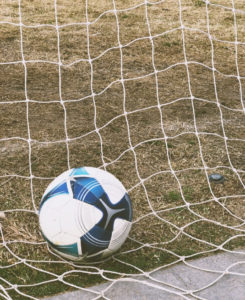 My Story
I started to play the game of soccer around age 9 and as I moved on into my teenage years the game sucked me in like a magnet. The 1990 world cup was full of action, likewise the 1994 world cup! Watched every minute of those world cups. Romario, Baggio, Bebeto, and the list goes on of great players…just magical…and the MLS now is getting bigger and better for sure!
I played competitively during my high school years then I went onto college and played for my college team, winning the ECAC (Eastern Conference Athletic Championsip) in my first year and fourth year. It was a lot of fun for me and I learned a great deal about playing and about the sport itself over those years.
I now play Masters Soccer and it is just as much fun. I love it!
Why Do I want To Help People
Many people have challenges choosing soccer cleats. They run into issues trying to select the best pair, whether they are buying it for themselves or they are trying to buy a good pair of soccer boots for someone else. This is an area that many persons need guidance on and I think that with my years playing and loving the sport that I can assist anyone who is trying to select the best pair.
The Goal Of My Site
I want to be able to help people buy the best soccer cleats they can for themselves or for someone else. Many people don't know about the different characteristics of a pair of soccer cleats and therefore need some assistance. That is where I come in – to give you some information on the boots that are available out there so that you can make an informed decision when you are making your selection.
Well, feel free to browse around the site here at www.ilovesoccercleats.com and if you ever need a hand or have any questions, feel free to leave them below and I will be more than happy to help you out. Me and my research team encourage you to comment on anything! We love to hear from you guys! You can also reach us at support@ilovesoccercleats.com.
Well, have a great one and I hope your experience here is one that you totally enjoy. Thanks for taking the time to visit us – we value your visit to this site….
All the best,
Randy
www.ilovesoccercleats.com