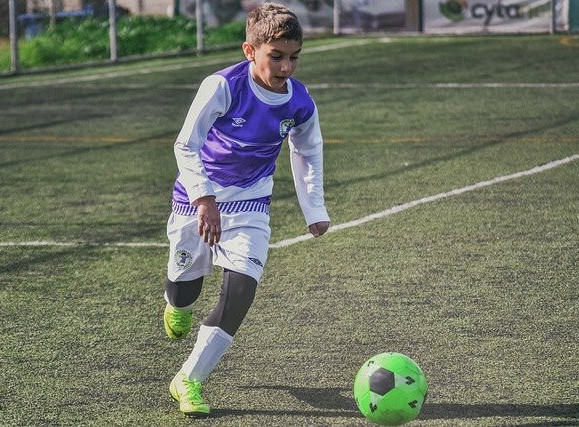 What are the best soccer cleats for a 12-year-old? There is quite a selection of cleats out there for this age of player. Some kids that play soccer play it just for fun, but a significant amount play competitively. One thing that is for sure is that if they are playing soccer at this age, they are of the mindset that they want to perform very well on the soccer field.
Whether they are a standout player, a beginner, or a player with average skills, they want to perform well enough on the soccer field to at least impress their friends or their parents watching from the sidelines. With that in mind, there are a number of soccer cleats out there that kids around the twelve-year-old age would do well to have in their possession.
A quick reminder that if you decide to purchase any products through the links here I may get a small commission, but at no extra cost to you. You pay the same price as if you went there directly.
Well, these are my picks for top soccer cleats for 12-year-olds – Adidas Kids 19.3 Predator cleats, Adidas Goletto VI cleats, Vizari Kids Stealth cleats, New Balance Kid's Tekela Magique cleats, and Nike Jr. Mercurial Vapor 13 cleats.
.
Adidas Kids 19.3 Predator Cleats
The Adidas brand is a long-standing brand in the soccer arena. This brand has great soccer cleats out there for teenagers and adults alike. This particular brand of soccer cleats – the Kids 19.3 Predators, are a great pair. They perform well because of several factors.
The upper has a control embossing which will give your 12-year-old a better touch on the ball. The studs also give great traction on the playing surface. The shoes can fit a bit narrow for those with a wide foot, however many teenagers with normal size feet have reported that they fit them quite fine. This is a great pair of soccer cleats for twelve-year-olds.
Adidas Kids Goletto VI Cleats
This pair of Adidas boots perform especially well from a durability stand. The synthetic leather upper here makes this pair of soccer cleats very durable. With this level of durability, they will last a long time and they will stand up to the rigors of playing a lot of soccer.
Another aspect of these boots that make them favorable, is the flexible outsole. This capacity for flexure allows a young player to get the most out of the boot under intense playing circumstances. The lace closure allows for a secure fit to the feet so that the young player doesn't have to worry about sliding around in the boot during the game.
One thing to note is that these cleats do run somewhat narrow so you should take this into account when sizing your pair.
Vizari Kids Stealth Soccer Cleats
The Vizari Kids Stealth soccer cleats are another great pair of soccer cleats for a 12-year-old. These cleats are quite durable. This durability comes from the leather material that the upper of the boot is made from and as a result in most cases will last a long time.
The rubber sole also gives great traction on the playing surface – something that can never be overlooked in selecting a good pair of soccer cleats. There is significant padding on the inside of these cleats as well, and this makes wearing them quite comfortable for these teenage players.
These boots are very functional, as is seen from the features highlighted above. Along with their functionality, they are also very attractive. With regard to fit, they are great for persons with wide feet.
These soccer cleats are one of the stand-out pairs of cleats for players in this age group.
New Balance Kid's Tekela Magique Soccer Cleats
New Balance has created a very comfortable pair of soccer cleats for big kids here with their Tekela Magique cleats. These cleats boast having a synthetic upper which is quite up to standard for modern soccer cleats, and its outsole is made of rubber, which allows for easy flexure during gameplay.
They have been reported as comfortable and I am sure that your 12-year-old soccer player will enjoy wearing them. For those young players that have wide feet, this is a good pair of soccer cleats for them. This room on the inside of the cleat makes it quite comfortable.
These cleats are also very durable and can take the rigors of competition play, and those pick-up fun games that usually occur a couple of times a week and on the weekend.
Nike Jr. Mercurial Vapor 13 Soccer Cleats
The Nike Junior Mercurial Vapor 13 soccer cleats are definitely one of the best pairs out there for 12-year-olds. It is made by Nike which is one of the best brands in the soccer arena and is known for its high quality.
The Nike Junior Mercurial Vapor 13's are actually a multi-ground pair of soccer cleats and is therefore suitable for both firm ground grass surfaces and artificial grass surfaces. The synthetic upper allows a player to have a deft touch on the ball, and the lining on the inside makes these cleats very comfortable.
Young players can easily showcase their speed and agility using these boots. This is due in part to the fact that these cleats are lightweight, and easy to move around the soccer field in. These cleats a great pair of soccer cleats for a 12-year-old.
Conclusion
To wrap this up, we see here that these are five standout pairs of soccer cleats for young players. They give the player the ability to enjoy the game without hindrance and to showcase their skills.
These boots all feature great stud configurations which will allow a player to have great traction on the playing surface. These cleats made of superior materials that will allow a player to control the ball well, and to pass accurately.
Some of them are more suited for wide feet as you would have read, while some fit more narrowly. These are my top choices for soccer cleats for a twelve-year-old.